Companies wants loyal customers, especially in B2B where regular customers with repetitive purchases, are the basis for the company's sales. When it comes to consumers, bonus clubs and discount vouchers work well to keep customers, but the same concept within B2B can have a direct opposite effect. So, what creates loyal business customers?
Companies that are committed to having engaged business customers, who experience a fellowship with their supplier, generally succeed better than other companies. This obviously means that customers stay longer, but surveys also show that these customers usually buy more and at a better profit margin. (Gallup B2B Guide 2016)
Why customer loyalty is particularly important in the B2B
Recruiting new customers is usually significantly more expensive than retaining existing ones. Investigations show that it is many times more expensive to sell to a new customer than to an existing (HBR - The Value of keeping customer). If the business is organized around repetitive purchases, the cost for recruiting a new customer is of course many times higher than keeping a customer.
In consumer markets have the cost of acquiring new customers, in some cases, been reduced by utilizing effective marketing through social media, etc. However, in B2B, the trend is the opposite, as despite the extensive marketing efforts, it is difficult to be heard through the ever-rising noise.
Even though it is harder to keep business customers, competition has increased so much that it is significantly harder to book sales meetings and to close a deal with new customers
The proportion of business customers, who isn't committed enough, so that they cannot consider a new supplier is, according to the Gallup survey B2B Guide Report, a total of 71%. When buyers think that it is the buyer's market, it often causes high price pressure. In addition to price pressure, a comprehensive tender procedure is required where suppliers have difficulty in getting room to profile their benefits.
"Good customer service costs less than bad customer service."
- Sally Gronow
See examples of the difference in value of loyal customers and a regular customer
When a loyal customer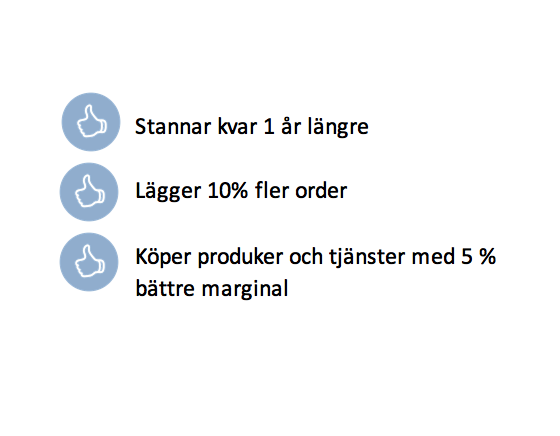 Average customer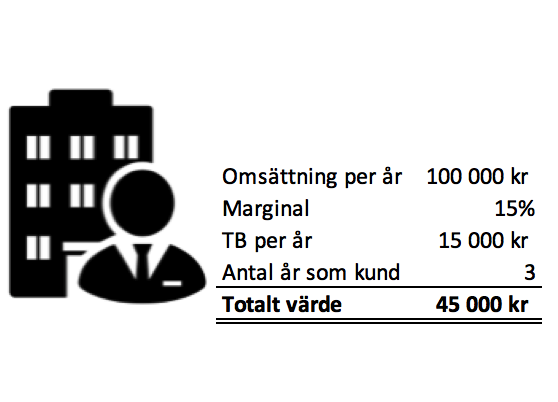 Loyal customer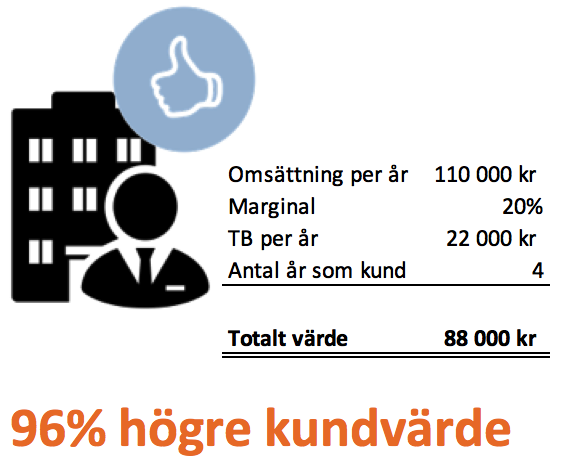 Keeping customers therefore gives a direct higher value than replacing them with new ones. The company's investment in growth is, of course, limited if customers are lost in too high pace.
See the following examples of how growth is limited if churn rate increases (the rate at which the company loses customers):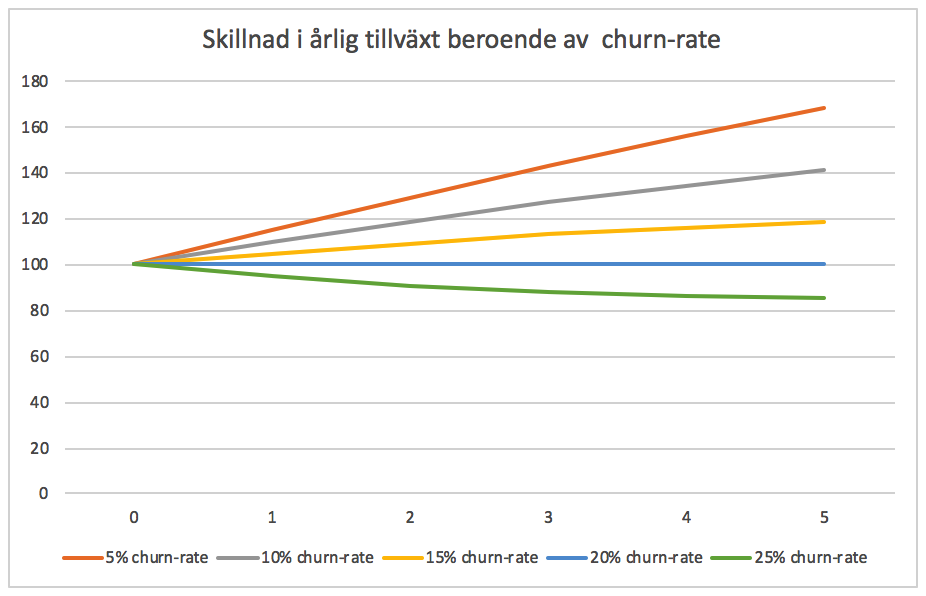 Depending on industry and sales costs, a 2% drop in customer loss may be equivalent to the same overall profit as if lowering company costs by 10%. See article in the Harvard Buisiness review.
Satisfied customers become loyal customers
It is talked about the difference between satisfied and loyal customers. A satisfied customer does not have to remain loyal. However, the customer's satisfaction is often a prerequisite for the customer to be loyal. As long as the customer is satisfied with his supplier, supplier replacement is something that is both tediously and costly.
In today's more competitive markets, however, the demands increase for purchasing organizations to optimize their purchases and sometimes with pronounced agendas to push down prices. This means that the time that a company retains its suppliers, decreases. Today, the number of customer-supplier relationships that survive when changing management groups or even generations is becoming increasingly rare.
If the feeling disappears of the supplier being the best partner and that the service is good, then the supplier's benefit will not disappear from being exposed to competition. It does not necessarily have to be because the service is bad, but it can simply be because there is no one left at the customer who has the experience and the history of the positive cooperation. Often, buyers and other contacts leave the customer and with them the people also disappear from the relationship and good reputation that you have built up with the customer over time.
As industries mature, competition is increasing. Offer providers are similar to each other and it is harder for the company to stand out.
In this context, it becomes increasingly important to remedy problems as smoothly as possible so that this dissatisfaction does not escalate to the reason that the company loses its customer. Likewise, it becomes important that all employees of the customer know that problems have been addressed and have been solved.
What creates customer satisfaction
You can certainly design questionnaires that you send to customers to find out what they are happy with and what needs to be improved. However, the risk is that you do not get the answer you want and maybe not even the true truth. For buyers it is of course important that price and product are as good as possible. Other important factors are, of course, delivery capacity and delivery reliability.
However, it is essential to get the deal and to keep a customer. What matters to how satisfied the customer is, in particular, how the service is perceived by the customer's all involved users.
You are striving to minimize the amount of hassle in your business. Hassle means increased costs for you and worries for your customers. Quality measures are used to measure and improve delivery security, and perhaps you have introduced quality systems to log and remedy any deviations.
But what matters most to the customer is that they feel that you and you are in control. It should be easy to get information about everything that has to do with the current store. If there is a problem, it should be clear what has happened, what this affects and how it will be solved.
By having close contact with all the relevant people of the customer, by being always available, you avoid a "whisper-play" of customers with a greedy dissatisfaction that you are unable to handle.
At the same time, it is important that you show to all customer contacts what benefits you are contributing and how product / service can be used best. To constantly work with aftermarket activities that strengthen the brand of the company as many as possible with the customer.
Why digital customer care gives best results
Users generally become more and more used to self-service. Same people who are used to, for example, carry out their private banking or book online car inspection online are those in your professional life who are your customers. Believing that one's own customers are digital dinosaurs is something that is wrong and may be punishing.
The personal meeting is of course incredibly worthwhile. It is also very expensive in case you want a customer service that is always available and can answer any possible questions. At the same time, you probably want expensive sales time not to respond to routine questions such as invoices, balances, delivery confirmations, etc.
The customer also does not always want to communicate with a person. The uncertainty that the person may feel may not be enough to make it relevant to call or email a question. It will then be significantly simpler for the customer to be able to check things out when and how it suits them best.
As self-service enables the customer to easily solve their questions digitally, new opportunities are opened for the company to spread more information than exactly what the customer asks for. A well-adapted newsflow, links, more information etc. enables the customer to suit themselves to explore the company's entire product and service offering. On the other hand, attempting additional sales on the phone when an irritated customer asks questions about a delivery or invoice may be disadvantageous to the customer relationship.
Through the digital communication, communication between customer and supplier is extended to several contacts who can access information and interact. This makes the customer relationship not as vulnerable if the company's contact ends.
Conclusion
Allow customers to easily access information. Set up a customer portal that allows self-service 24/7.
Become more personal with customers' employees. Provide personal contact with the customer and a user profile.
Make it easy for the customer to collaborate. Communication in the customer portal should not only be one-way. Take advantage of the ability to let users input.
Provide better service and be as transparent as possible
Provide relevant tips and advice directed at the user
Be sensitive to your customers' comments and listen to feedback.
Question: How would your customers benefit from a customer portal?
Learn how to create a Business case for offering your customers a customer portal.