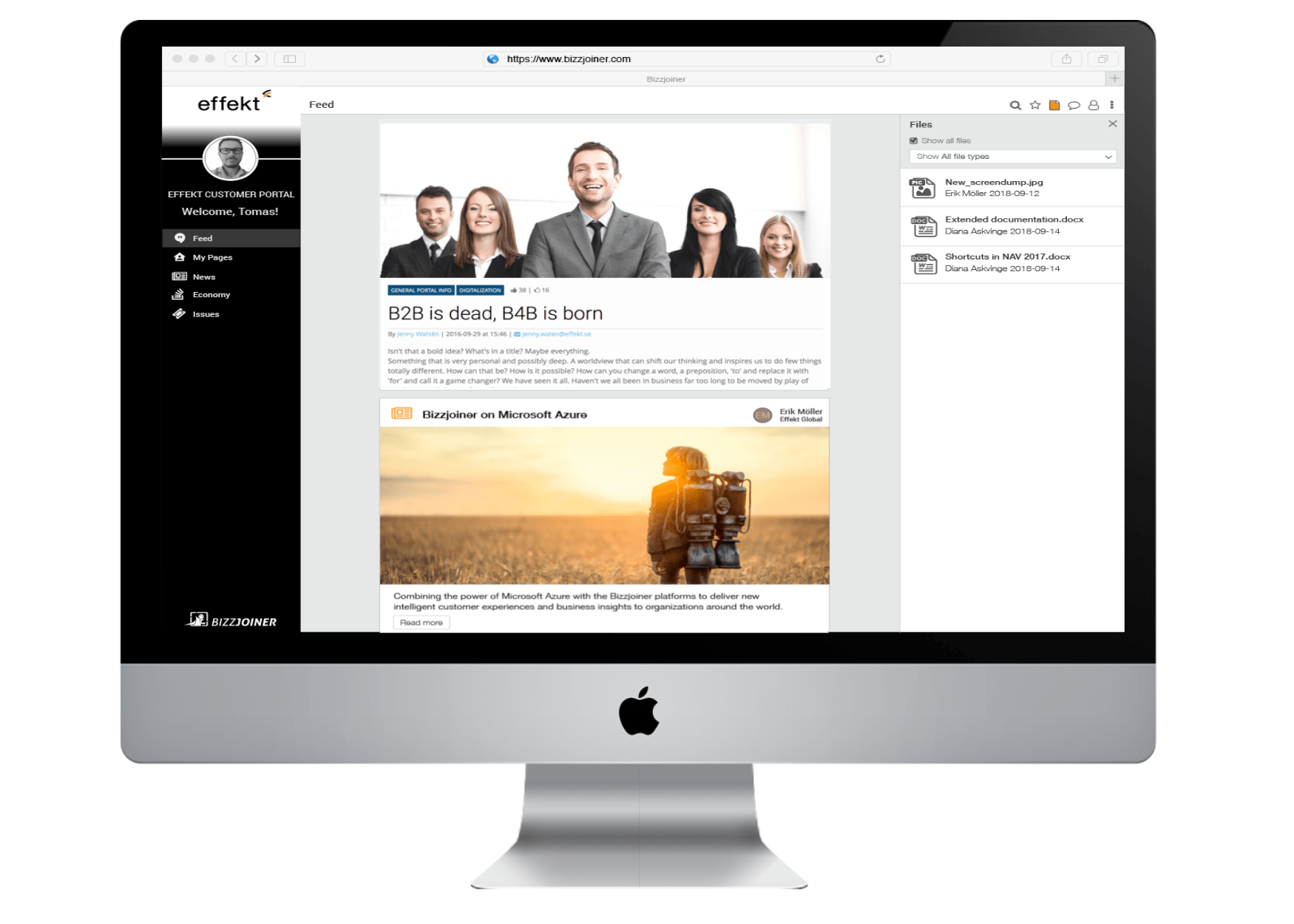 Bizzjoiner - world-class customer care
Bizzjoiner is the customer portal that allows you to get closer to your customers by simplifying communication, sharing information and collaboration between the organizations. With Bizzjoiner, can you as a supplier give your customers the professional treatment they deserve by utilizing a stable platform that allows you to quickly place your customer dialogue at the forefront.
Bizzjoiner
Bizzjoiner is the customer portal that allows you to get closer to your customers by simplifying communication, sharing information, and collaboration between organizations. With Bizzjoiner, you can provide your customers with the professional response they deserve, utilizing a stable platform that enables you to quickly place your customer dialogue at the forefront.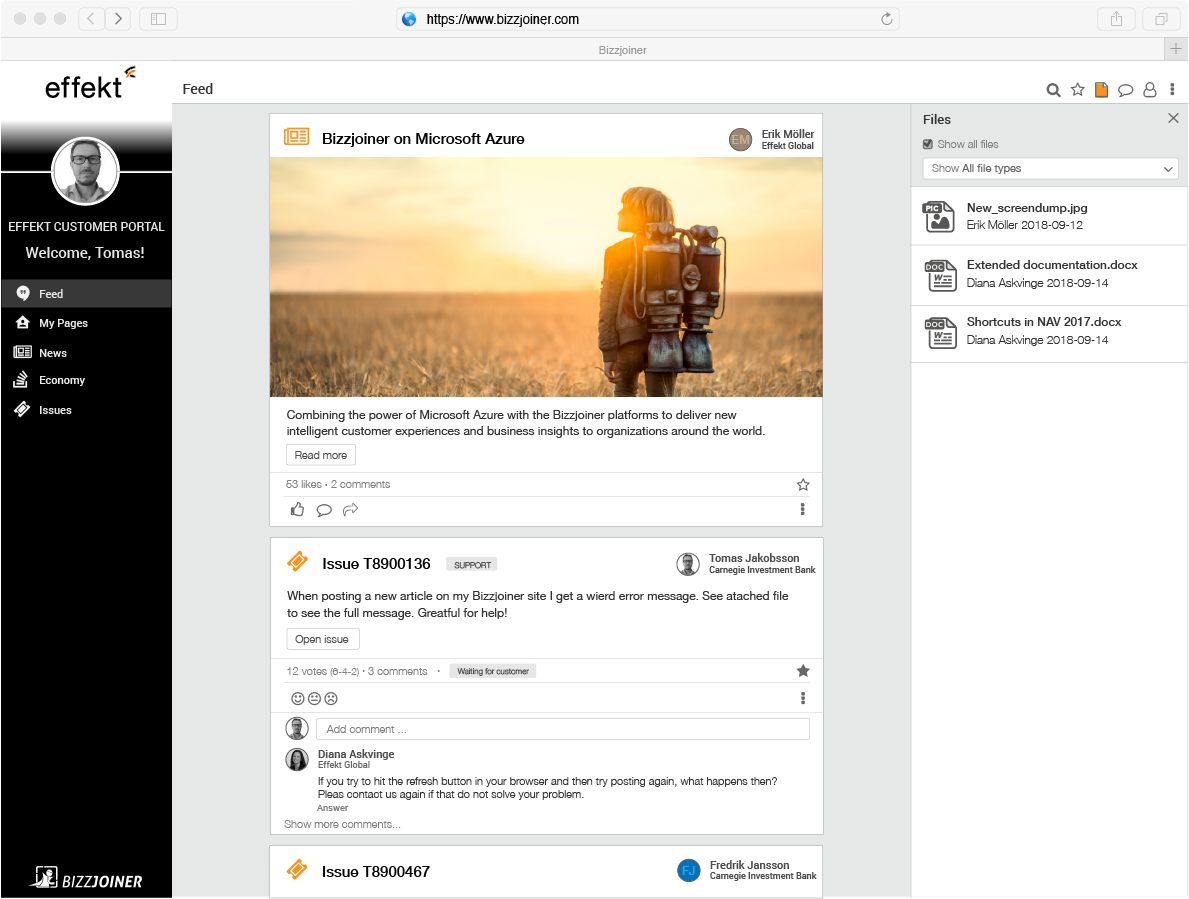 Customer portal as cloud service
When setting up a Bizzjoiner customer portal, no own infrastructure or expensive investments are required. The solution is run as a SaaS service, which means it operates in Microsoft clouds and you hire the solution including all kinds of technical administration.
The cloud service makes the solution ready from the start with all the desirable security management in the form of redundancy, backup etc. As more users use the service, the solution shifts, which means you can be sure that your customer portal is always up and running.
A social portal where users from both customer and supplier collaborate
The portal design focus is to promote the social interaction between users. For example, the ability for users to provide feedback on different events in the form of both comments and likes symbols.
Simple flow
Bizzjoiner is designed to enable as many users as possible to quickly take advantage of the features. We have therefore designed the interface according to common social networking sites such as facebook or linkedin. The first thing that the user encountered when signing in is therefore an advanced feed that shows the information that is perceived as most relevant to the current user.
The flow shows news in the form of articles combined with information about what happens in the customer's and company's joint business processes. Based on user settings and roles, the flow is designed according to Bizzjoiner's adaptive algorithm. The algorithm is based on customer preferences, historical interaction, and the priority that the company chooses on individual events.
Immediately in the flow, the user can choose actions on events such as commenting, giving it a review or simply reading on. Depending on event, specific actions such as Confirm can be selected.
Connections to other systems
Bizzjoiner integrates with the company's other business solutions in order to display updated information in real time. Information that you have collected in ERP systems or other business solutions that you want customers to access, is published and made searchable through the advanced security system.
The customer portal can be linked to one or more different systems depending on how your company works.
The connection can also be designed so that information flows from the portal to other systems. This may for example be in the form of bookings, registration of orders or approval procedures.
With a linked customer portal, unnecessary work with duplication is minimized for both your and your customers employees.
Competent group and role-based security system
The authorization system is built around a group and role based security system. By all the information in the portal is linked to the access groups and filtered in its most basic level, you and your customers feel confident that the information is only accessible to the persons belonging to the corresponding group and have the right role.
Thoughtful personal data management
From the start, personal data management is constructed in Bizzjoiner in a way that solves questions of personal integrity, security and the possibility of advanced statistics. All users in the portal have a personal login and can keep track of their own information.
The built-in security system provides support for both the supplier and the customer's administrator to invite new users to the portal and assign these permissions. It is up to users to confirm their user account in such a way that they constantly have complete control over their personal information.
Application Templates
Bizzjoiner comes from the start with a number of different application templates that make it easy to get started with a customer portal that suits your business. These templates can be used as they are or are used as a basis for further customization.
Examples of template applications found in Bizzjoiner are:
My pages
My details
Ticket management
Balance and invoices
News Publishing
Opportunity to customize based on your own business
When Bizzjoiner is a platform, there is every opportunity for tailor-made customization to fully support the company's unique business. Customizations are made by modifying template applications or creating completely new applications that can utilize all of the system's built-in features including the permission system.
Follow up customer engagement and activity
The goal of the company's commitment to giving customers access to a customer portal will result in loyal customers who feel a connection with the company. With Bizzjoiner, you'll find functionality to track both your customers' commitment and activity in a way that helps prevent any inconvenience. By capturing users' views early or if they simply cease to use your customer portal, you don´t just get a clear loyalty index but also real sense of what you can do to increase customer satisfaction.
As a built-in application, you can connect a rating system to every moment in the customer portal. For example, the user can provide feedback on how they think a delivery has passed, the project documentation or the design of the invoice.